Black Costa Rica
08/24/2020
Paola Ravasio | Würzburg, 2020 | ISBN 978-3-95826-140-2 | € 29,80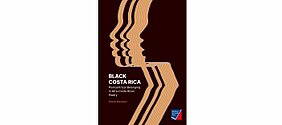 Untertitel: Pluricentrical Belonging in Afra-Costa Rican Poetry
Softcover, iii, 264 Seiten
Sprache: Englisch
Erscheinungstermin: 24.08.2020
Beschreibung:
The book you hold in your hands is an interdisciplinary study on diaspora literacy in Afro-Central America. An exploration through various imaginings of times past, this study is concerned with how oxymoron, metonymy, and multilingualism deploy pluricentrical belonging. By exploring the interlocking of multiple roots that have developed on account of routes, rhizomatic historical imaginations are unearthed here so as to imagine an other Costa Rica. A Black Costa Rica.
Autor:
Paola Ravasio

https://orcid.org/0000-0002-7135-6480, geb. 1982, Licenciatura (Klassische Philologie, Universidad de Costa Rica), M.A. (Culture Letterarie Europee, Università di Bologna, Universität Strasbourg, Aristoteleion Panepistimion Thessaloniki)
Parallel erschienen als E-Book im PDF-Format:
Download (ISBN 978 -3-95826-141-9)
Für Buchhändler: Bitte richten Sie Ihre Bestellung am besten direkt an unseren Vertriebspartner BoD.de.