Facing Social Robots – Emotional Reactions towards Social Robots
04/23/2020
Isabelle M. Menne | Würzburg, 2020 | ISBN 978-3-95826-120-4 | € 27,80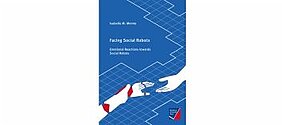 Softcover, XXIV, 201 Seiten
Sprache: Englisch
Erscheinungstermin: 23.04.2020
Beschreibung:
Are there emotional reactions towards social robots? Could you love a robot? Or, put the other way round: Could you mistreat a robot, tear it apart and sell it? Media reports people honoring military robots with funerals, mourning the "death" of a robotic dog, and granting the humanoid robot Sophia citizenship. But how profound are these reactions?
Three experiments take a closer look on emotional reactions towards social robots by investigating the subjective experience of people as well as the motor expressive level. Contexts of varying degrees of Human-Robot Interaction (HRI) sketch a nuanced picture of emotions towards social robots that encompass conscious as well as unconscious reactions. The findings advance the understanding of affective experiences in HRI. It also turns the initial question into: Can emotional reactions towards social robots even be avoided?
Autor:
Isabelle M. Menne, geb. 1988 in Newport News, VA, USA, Master of Science (Psychologie)
Parallel erschienen als E-Book im PDF-Format:
Download (ISBN 978-3-95826-121-1)
Für Buchhändler: Bitte richten Sie Ihre Bestellung am besten direkt an unseren Vertriebspartner BoD.de.