Extracting Spatial Information from Historical Maps: Algorithms and Interaction
11/23/2018
Benedikt Budig | Würzburg, 2018 | ISBN 978-3-95826-092-4 | € 32,90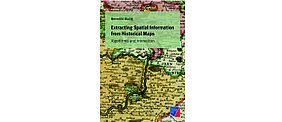 Softcover, 160 Seiten
Sprache: Englisch
Erscheinungstermin: 23.11.2018
Beschreibung:
Historical maps are fascinating documents and a valuable source of information for scientists of various disciplines. Many of these maps are available as scanned bitmap images, but in order to make them searchable in useful ways, a structured representation of the contained information is desirable.
This book deals with the extraction of spatial information from historical maps. This cannot be expected to be solved fully automatically (since it involves difficult semantics), but is also too tedious to be done manually at scale.
The methodology used in this book combines the strengths of both computers and humans: it describes efficient algorithms to largely automate information extraction tasks and pairs these algorithms with smart user interactions to handle what is not understood by the algorithm. The effectiveness of this approach is shown for various kinds of spatial documents from the 16th to the early 20th century.
Autor:
Benedikt Budig, geboren 1990 in Freiburg im Breisgau, M.Sc. (Informatik)
Parallel erschienen als E-Book im PDF-Format:
Download (ISBN 978-3-95826-093-1)
Für Buchhändler: Bitte richten Sie Ihre Bestellung am besten direkt an unseren Vertriebspartner BoD.de.